Course Tour and Scorecard


1
2
3
4
5
6
7
8
9
10
11
12
13
14
15
16
17
18
1
Hole 1 
|

  Par 4 

|

  416 Yards

The ideal placement off the tee is center-left since this fairway tends to break from left to right. This will set you up to have a straight forward approach into this green which is guarded by bunkers on the left and right side this green also slopes from back to front.
2
3
4
5
6
7
8
9
10
11
12
13
14
15
16
17
18
CHECK OUT OUR PALM CARD PROGRAM!
By playing a lot more golf at Arrowood you will be getting golf's greatest value!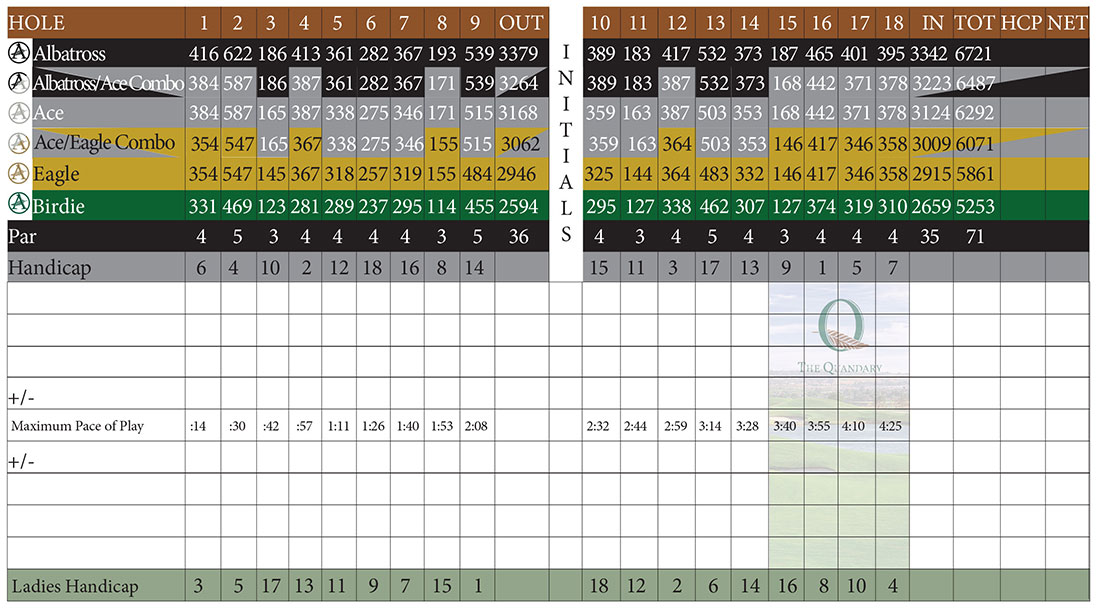 "As always, Arrowood is one of the best golf facilities in the area (or beyond). Course conditions, staff friendliness/helpfulness, flexibility with reservations . . . all make for an exceptional outing. THANK YOU!"
"Hands down best course I have played in SoCal. I have played at about 20 different courses but this one is by far the best one so far. 10/10 and will definitely come back soon"
"Golfing at Arrowood is just a delightful experience! Beginning with Henry in the cart barn, to Mark in the pro shop, then Don the starter. Great people, great golf course! My favorite! Thank you Arrowood."
"I was pleasantly surprised at what great shape the course was in after all the rain we had. Drainage has been improved in many areas. The fairways were great for most of the course and it was really well maintained, plus all of the crew we came across were friendly."
"Service was absolutely fantastic in all venues. I've seen a couple of team meetings. Keep them up as you have some great teammates who really care about each other's their patrons and the course!"
"Jacky is the BEST!!!! My buddy lost his phone and I swore she had the whole golf course looking for it! End of the day phone was found, Jacky provided 5star service(as always) and we had a great time!"
"Adam greeted us a made us feel very welcome. It was our first time golfing here and it was a birthday celebration. Definitely recommend the course and we will be back again soon!"
"Everybody at arrowood is very friendly. I love golfing here! Thank you!"
"We love playing arrowood , the staff is awesome friendly and make the experience perfect … "