Play A Lot More - Significant Value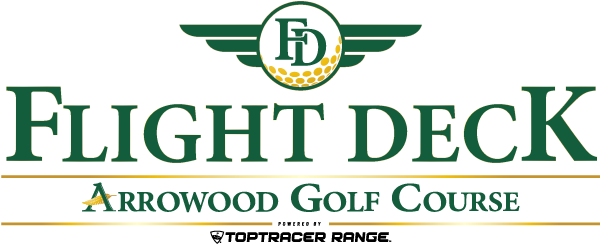 Holiday Toy Drive Benefiting Local Military Families
Nov. 24th – Dec. 15th
Donate new, unwrapped toys and enter to win two hours at Flight Deck Lounge or dinner for two at Fairways Kitchen & Bar!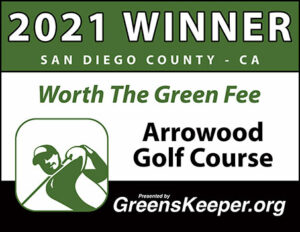 Designed by prominent local architect Ted Robinson Jr, the Arrowood golf course is a par-71, 6,721-yard layout imbedded in the Arrowood community. Located in Oceanside, adjacent to Camp Pendleton and only 35 miles north of San Diego, Arrowood sits on a scenic hilltop by the San Luis Rey Valley, only about 10 miles from the coastline.
"This course is different from others we have designed in San Diego because of the topography and the extent of the natural areas adjacent to the holes. It feels open and unconfined," remarks Robinson. Many holes are bordered by undeveloped riparian habitat, which give the course a feeling of natural seclusion. While the open spaces conduce to a sense of relaxation, the golf holes are not there for the taking. The course will challenge players of all abilities. It's a concentration roller-coaster."
The greens are a blend of Poa annua and Bermuda grass, firm and fast. "We try to keep them rolling at 10 to 11 (on the stimpmeter)" indicates Head Golf Professional Nikki Prichard. "This course will offer something for everyone," she further points out. Four sets of tees ensure that there is a golf test to suit any skill level. A potential two-club wind further adds to the variety; play early in the morning under generally calm conditions and you will find a docile course. The ocean breeze will wake you up later in the morning and on into the afternoon. It typically peaks when you get to the more difficult part of the round, the final four holes which have recently been named The Quandary.

The state of perplexity or uncertainty over what to do in a difficult situation. a practical dilemma. It describes the final 4 holes perfectly!
"Other Courses Should Take Notes from This Club. Had a chance to play a 12:30 p.m. tee time. Place has a great clubhouse along with outside bar and food truck that day. Course was in phenomenal condition and the staff was super friendly and was instrumental in creating a fun and enjoyable atmosphere. It's a challenging course with great opportunities to score. If you are hitting the ball well. Also, the price was terrific for the quality of the course! Definitely worth another visit and would highly recommend this course to anyone looking to play in Southern California."
"I love everything this course offers. No other course we play in OC and North San Diego County offers what Arrowood does. I personally don't have time to sit and enjoy the food services, as we drive down from Laguna Niguel area when we play. But, everything here is top notch. The fairways were really good today, as were the greens. If I lived closer to the course, I'd be there every day and use all the facilities. The Arrowood experience is the best of any course we play, which includes Arroyo Trabuco, The Crossings at Carlsbad and Encinitas Ranch."
"Best vibes in Southern California by far. Great value. Great food. Great service from the starter to the servers at the Flight Deck. Not much you could do better. Now I'd take that momentum and really concentrate on keeping the course conditions A+. With record amounts of rounds being played the last few years, too often I've seen clubs not take care of the course. That should be the priority. Arrowood should be a example to other clubs of what the future looks like. Such a great time out there!"
"Just wanted to say thank you for your focus on your customers and the overall experience. Ever so friendly and helpful Pro shop staff, starter, maintenance folks, great layout and course conditions, full practice facility and now an upgraded range. I live in Dana Point and enjoy your overall experience more than any course I play in Orange County. Love your 5 rounds for $250 card and the way you brand and market (never thought Quandary would be in my vocab). I have 10+ rounds now since late summer, and I'll now even be coming down just to practice. Please keep pushing the envelope...you guys are really doing things exceptionally well."
"First class golf course! My first time playing, and I was very impressed! I've played many courses in San Diego county, and Arrowood is easily right there at the top of any I've been to. Everything about the experience was superb. I loved the layout of the course itself; it was immaculate and in excellent shape. I also loved the design and positioning of everything else. Every area of the course was conveniently laid out and strategically positioned to be only steps away from each other, which made everything very easy to access; from the clubhouse, to the restaurant and bar, to the starter and golf carts, to the driving range, chipping and putting, to the first tee. You could also tell there was pride in ownership as every area was pristine and in top notch shape as well. I really enjoyed the separate driving range section with lounges and with Top Tracer technology. For so long I've wanted to experience Top Golf in San Diego. This section is the closest I've ever come to it and I absolutely loved it!! Five star experience all around and can't wait to return!!"
"Arrowood is the best golf experience in SoCal. My son is a competitive junior golfer and we are at golf courses all over SoCal. The layout and course conditions, the practice area, the food & service at Fairways, snack cart service, the pro shop customer service, the overall ambience is better than any other course we go to. Your management and staff clearly take great pride in not just the course, but the whole atmosphere at Arrowood. It always makes for a comfortable and enjoyable experience!"
"From the minute we arrived, we were greeted by the friendly starter. We had never been to your course before. We were impressed with everything about your course. The fairways and greens were pristine. Beautiful course and challenging enough. It was a great experience from start to finish. Everyone who works there acts like they love their job. Each person from starters, restaurant workers, and the pro shop people were completely friendly and helpful. It was really a special day for us and we were celebrating our anniversary! We will look forward to when we can come back again and bring friends!"
"Your golf course is the most well run I've played, everything from the green speed and handicap ratings for choosing tees is great. The only improvement needed there is the curb painting indicating each tee needs to be redone, painting the tee color on the curbs was an excellent idea by the way. The staff are very friendly and one of the best features. The course layout is great and challenging. I don't play Arrowood often since it's almost an hour drive from home, but I always look forward to it. Thank you for running such a beautiful course."
"This is Class A golf course, to say the least. But, I just wanted to point out a "hidden" treasure that is offered. Nikki Pritchard, a truly amazing & comfortable teaching pro, has a clinic on Tuesday afternoons for a lesson & then 9 holes. Not only so very helpful to knock out the kinks, but 9 holes to work it! The group is called "9 & Wine" and you can find it on Meet-up or email Nikki at Arrowood. I am not employed by Arrowood and not a friend of Nikki.......just someone who did this for the first time yesterday and the value, & lesson was worth gold to me. I can't even begin to express how much that lesson helped me....dead serious. And, I'm going back for more! ........oh, yes there is wine!"
"I can think of anything that would require as a necessary improvement. What GM Tom has done to the overall experience at Arrowood is fantastic. The staff is welcoming, friendly & most accommodating. From the front desk at check in, to the ambassador out front of pro shop, to your very friendly golf superintendent, to GM Tom, right down to the gentleman who helps us with our cart pre/post golfing. The Arrowood experience is The BEST of All courses we play throughout San Diego every Monday. I recommend Arrowood to every SD golfer in know."
"I play 10~12 times/month all over the county and really appreciate courses that provide decent playing conditions. The course today (5/17/21) was flawless. There is actual grass on the fairways and the rough was as it should be and well groomed. I know conditions like these are expensive to provide in southern California, but it is a major reason to keep me and my friends frequenting your course. Kudos to everyone involved!!"
"Our first time in & really enjoyed such a nice/friendly staff & what a gorgeous course! The rolling hills & mostly wide fairways were awesome! Had pizza & drinks after our round and both were great, with nice/friendly staff! Restrooms were clean, stocked & appreciate that too! We will be back for sure, can't wait to golf here at A W again! :)"